Aurora Aquatic Facility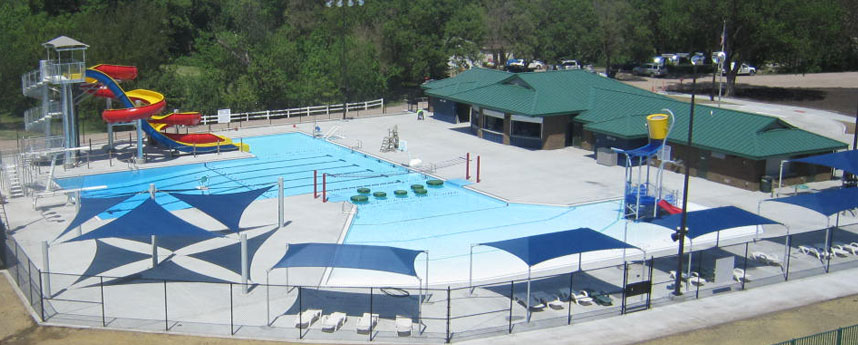 Aurora's coolest place to be during the hot days of summer. Take a splash!
The Aurora Aquatic Facility opened in 2014. It is open during the summer months from approximately Memorial Day (end of May) up to the start of the school year in August. The pool is served by pool managers, concession stand managers, and a number of lifeguards and cross guards.
Open Swim Hours: 12pm-5pm and 6pm-8pm * We WILL NOT be open from 6pm-8pm on Sundays and Wednesdays due to private pool parties! 

Pool Telephone Number is : (402) 694-2992         E-mail: aaf@cityofaurora.org

Follow us on Social Media:
Cash and Checks only, no credit or debit cards can be accepted. 
Please do not send child to purchase passes or to sign up for lessons. Must be 21 to sign pass agreement.
POOL PARTIES
Dates: Sunday and  Wednesdays
Times: 6pm-7:45pm       Cost: $200    ($100 Deposit required to reserve a party date. The deposit will be put toward the $200 total cost.)
Amenities include:
Two slides – a speed slide and a corkscrew slide

Six 25 meter lanes

Lily pads to walk across

1-meter and 3-meter diving boards

Zero-depth entry area

Splash zone with a giant bucket dump

Free Wi-Fi

Shade areas

Room for deck chairs

Concession stand
Swimming lessons are available. Please call: 402-694-2992.
---
All admission costs include Nebraska sales tax:
Season Pass:
$50.00 – 9 and under

$60.00 – 10 and over

$115.00 – Family Pass
Please remember that someone age 21 or over must purchase this pass and someone over the age of 14 must accompany anyone age 9 or under
Single Admission:
0-2 Years – Free Admission with paying adult

Age 3-9 Years of Age – $3.00

Ages 10 & Up – $4.00

$200.00 – Party Night
---
RED CROSS SWIMMING LESSONS  
Cost $30 per student per week with payment due prior to first class. No spots will be held/reserved until the payment is made.  Parent Child Aquatics cost is $15 with the same payment requirements as other Red Cross lessons.
We will be offering four weeks of Red Cross Swimming Lessons (also known as group lessons). We limit no more than 10 students per class. The amount of Lifeguards teaching the class varies depending on the level. Level Preschool has five instructors, Levels 1 and 2 have three instructors, Levels 3 and 4 have two instructors, and Levels 5 and 6 have one instructor. There is at least one guard with one year of experience teaching each class.
CHANGE OF POLICY: Payment is due when signing up for a class. We know this is different than in years past, but we feel like this change is necessary. Thank you for understanding!
Weeks Red Cross Swimming Lessons will be offered:
Week 1: June 4- June 8 (Levels 1, 2, 3, 4, 5, 6, and Preschool)

Week 2: June 11- June 15 Levels 1, 2, 3, 4, 5, 6, Preschool and Parent/Child Aquatics)

Week 3: July 9- July 13 (Levels 1, 2, 3, 4, 5, 6, and Preschool)

Week 4: July 16- July 20 (Levels 1, 2, 3, 4, 5, 6, Preschool and Parent/Child Aquatics)
Times Red Cross Swimming Lessons will be offered:
Level 5 and Level 6 9am-9:45am

Level 3 and Level 4 10am-10:45am

Level 1 and Level 2 11am-11:45am

Preschool 5pm-5:30pm

Parent/ Child Aquatics 5:30pm-6pm (Mon. Wed. Fri.)
PRIVATE SWIMMING LESSONS
One-on-one swimming lessons are offered by lifeguards who have at least one year of experience. Private lessons consist of 5 lessons, at 30 minutes a piece. The cost is $50 to the lifeguard. You can contact a guard directly or contact the pool. Information will be recorded and a guard will contact you about scheduling lessons.
---
Lap Swim Information
We will be open for lap swim during the following hours:
Monday-Friday: 8am-12pm and 5pm-6pm
The cost is daily admission or free with a season pass. Anyone lap swimming must be 18 years old (accommodations can be granted on a case-by-case basis, please talk with management).
---
Pool Party Information
Pool Parties will be offered on Sunday and Wednesday evenings throughout the summer in place of our open swim hours. The cost of a pool party is $200.
CHANGE OF POLICY for Pool Parties: In order to reserve a spot for a pool party, an organizer of the party must sign a contract. $100 deposit is due at the time of reserving a pool party. The remaining $100 is due prior to the pool party beginning. $50 of the deposit will be returned if more than 24 hour notice of cancellation is given. If less than 24 hour notice is given, no refund is given. If the party is cancelled due to weather, a rescheduled date can be chosen. If no Sunday or Wednesday dates are available a Saturday morning from 10am-12pm will be scheduled.
---
Hamilton County Swim Team
The team meets Monday-Friday mornings at 8am through the month of June. Team members must be a season pass holder. For more information, talk with Steph Miller or Ellie Cerveny.
Please feel free to contact us via messaging on Facebook, Twitter or emailing us at aaf@cityofaurora.org. We will return to you as quickly as we can.
We look forward to a wonderful summer!
Co-Managers: Ellie Cerveny and Madison Farris