Cemetery
Search the online cemetery records here.
The Aurora Cemetery is located at 1309 North Highway 14, just one mile north of the City of Aurora. Our forty acre cemetery is home to approximately 22,000 burial sites.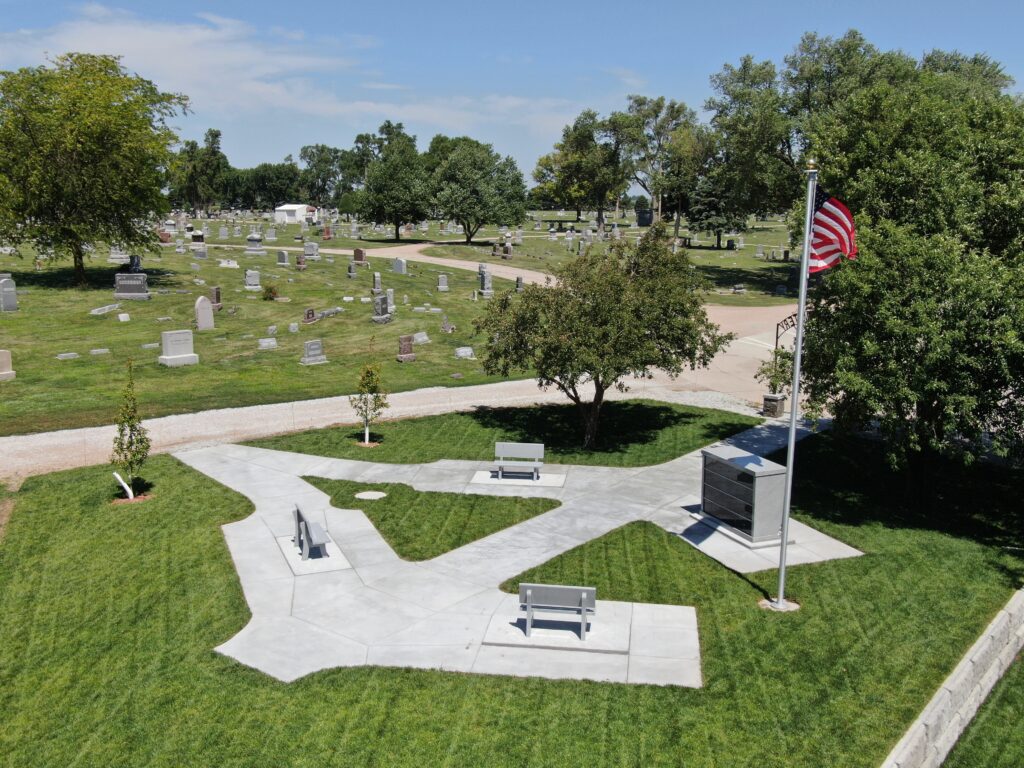 General Delevan Bates, who received a Medal of Honor in the Civil War, was a leader in the development of Aurora. General Bates had a vision to develop a cemetery to serve the families and friends of both Aurora and Hamilton County.
On June 11, 1877 in an article in the Aurora Republican Newspaper, General Delevan Bates stated,
"While yet alive and well, it becomes us as intelligent beings to make some provision for our final resting place. A spot of earth that we can call our own, around which we can plant the cypress and the willow and to which our friends can bring kind tokens of remembered when we have gone the way that all must go".
With these words, land was purchased from U.P.R.R and the Cemetery Association was formed. Although there were some burials on this land earlier than when the association was originally formed, they remained undisturbed thanks to the efforts of General Bates.
Today, the Aurora Cemetery strives to maintain that vision of yesteryear and provide a tranquil resting place so that all may come and remember their loved ones, friends, and the heritage of our community.
General Rules
Cemetery Hours are from Dawn to Dusk

The Speed limit on all roads within the cemetery is 15 MPH. All vehicles must

Remain on roadways unless otherwise instructed except for military funeral services.

No firearms are allowed on the cemetery property except for military funeral services.

No loitering or solicitation allowed without the authorization from the Sexton.

All trash must be placed in trash containers provided by the cemetery.

No planting of flowers, shrubs, bushes, or trees is allowed. (See section V)

Flowers and floral decorations on new interments will be left for 7 days and then Removed and disposed of by the cemetery staff.

Absolutely NO tin cans or glass containers being used for vases or other decorations will be permitted and will be removed promptly by the cemetery staff.

All flowers and decorations not within the cement foundation must be removed within 2 weeks (14) days of any holiday or occasion. (i.e., Memorial Day, Anniversary or birthday).

No digging holes for any reason will be allowed.

All flowers and decorations must be within the cement foundation and kept in good condition. Any withered or unsightly flowers or decorations will be disposed of.

No Shepard Hooks, Banner Rods, Bird Feeders or Solar lights outside the cement foundation are allowed.

No person shall offer money to any employee for special care or favors, any employee found to have accepted money or any other offering for special care or favors will be dismissed.

Any person found defacing, destructing, vandalizing or stealing any property within the cemetery will face prosecution by the law.

Any person found acting irresponsible, disrespectful, or threatening to any visitor or employee will be escorted off cemetery grounds and face possible prosecution.

The City of Aurora is not responsible for any property damage or loss due to issues out of our control (i.e., high winds, car accidents, vandalism).
---
As Cemetery Sexton for the City of Aurora, Dustin Brandt holds overall responsibility for ensuring the Aurora cemetery grounds maintain a safe, tranquil and peaceful setting. In this position, Dustin is also responsible for the sale of new lots and lot transfers as well as the filing of deeds and quit claims with the court house. He works closely with monument companies, veteran affairs, funeral homes, mortuaries and is responsible for maintaining office records, maps and budgets. A cemetery is a history of people – a perpetual record of yesterday and a sanctuary of peace and quiet today. A cemetery exists because every life is worth loving and remembering – ALWAYS. – Author Unknown.